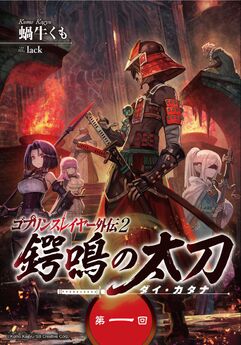 Goblin Slayer Gaiden 2: Tsubanari no Daikatana ( ゴブリンスレイヤー外伝2 鍔鳴の太刀) is a spin-off of the main Goblin Slayer! light novel series. It is a manga adaptation written by Kumo Kagyu, with art illustrated by lack and Takashi Minakuchi.
The light novel will be serialized in the Gangan GA online magazine with nine planned chapters.[1] The manga adaptation began serialization on December 28, 2018 on the Gangan GA online magazine, as well as Square Enix's Manga Up! app.[2][3]
Plot
Set 10 years prior to the original series, the story centers around Sword Maiden's party of six adventurers on their journey to the Dungeon of the Dead to kill the Demon Lord.[4]
Media
Light Novel
Chapters
Red Blade of Doom
Proving Grounds of Wire Frame
Bushwhacker and Highwayman
Critical of the Tiger
Trial of Champions
Dead Space
Lair of the Evil Samurai
Daikatana of Singing Death
Youth and Ash, Side by Side[5]
Manga
Chapters
Characters
Trivia
Gallery
Click on the images to enlargen them.
External Links
References