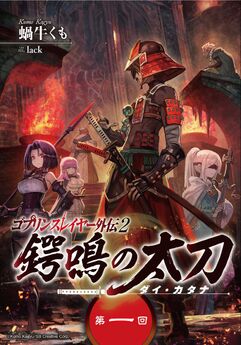 Goblin Slayer Side Story II: Daikatana[1] ( ゴブリンスレイヤー外伝2 鍔鳴の太刀 《ダイ・カタナ》) is a spin-off of the main Goblin Slayer! light novel series, written by Kumo Kagyu, with art illustrated by lack. A manga adaptation was drawn by Takashi Minakuchi but was canceled then rebooted under a new artist, Aoki Shogo.
The light novel is serialized in the Gangan GA online magazine with nine planned chapters, subdivided in several parts.[2] The first bound volume will be published in August 2019.[3] The manga adaptation began serialization on December 28, 2018 on the Gangan GA online magazine, as well as Square Enix's Manga Up! app.[4][5]
As of April 25, 2019, Square Enix's Gangan Online magazine announced the cancellation of the manga adaptation serialization by Takashi Minakuchi due to "various circumstances" and promised a "new development" for the manga adaptation at a later date.[6] On May 29, 2019, Square Enix revealed that Aoki Shogo will take over the manga adaptation.[3] The new manga adaptation will launch in Square Enix's Manga Up! app on August 30, 2019 and will then debut in Square Enix's Gangan GA online magazine "a few days" later.[7] An English translation of the light novel was announced by Yen Press on July 1, 2020,[1] and a translation for the manga was announced on October 9, 2020.[8]
Plot
Set 10 years prior to the original series, the story centers around Sword Maiden's party of six adventurers on their journey to the Dungeon of the Dead to kill the Demon Lord.[9]
Media
Chapters
Red Blade of Doom
Wire-Frame Proving Grounds
Bushwhackers and Highwayman[10]
Critical of the Tiger
Trial of Champions
Dead Space
Lair of the Evil Samurai
Daikatana of Singing Death
Youth and Ash, Side by Side[11]
Manga
Chapters
Characters
Trivia
Gallery
Click on the images to enlargen them.
External Links
Notes
References
Community content is available under
CC-BY-SA
unless otherwise noted.